Patricia Herlihy Alfonso Nursing Scholarship Fund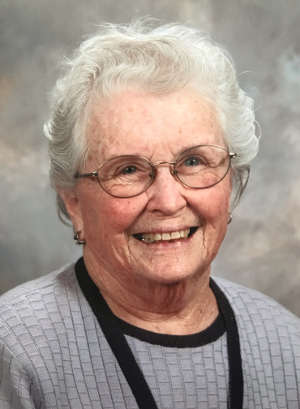 At the request of her family, the Foundation has established the Patricia Herlihy Alfonso Scholarship Fund to honor an icon in Nevada nursing. This scholarship will be available to applicants who are pursuing a future in the psychiatric nursing field.
Born in Los Angeles in 1925 to John Francis Herlihy and Mabel Emma Gunzenhauser, Pat attended the Immaculate Conception Catholic School from the age of seven. Although she wanted to attend college, in 1943 women seeking formal higher education was not encouraged. Instead, she learned to type and take shorthand and worked as a secretary for the Hancock Engineering department at USC, where she met her future husband, Charles C. Alfonso. They were married in 1947 and had five children during their 25-year marriage. After his untimely death, Pat fulfilled her dream of furthering her education and earned her Bachelor of Science from Mt. Saint Mary's College just before turning 50 years old. She went on to earn a Master of Nursing from UCLA in 1977.
Pat spent over a decade as a director of nursing in various California hospitals before transitioning to Northern Nevada to teach psychology at UNR's Orvis School of Nursing. While in Reno, Pat obtained her APN credentials and served the mental health community of Northern Nevada through private practice, teaching at various local colleges, and serving on the Nevada State Nursing Board. When she retired at age 80, she had served the mental health community in Northern Nevada for over 15 years. As her health declined, nurses and caregivers — many her own former students — stepped up to offer exemplary care and support. The gratitude and respect shown to Pat in her final days allowed her to pass from this life with dignity and peace. Her legacy lives on in her students as they continue to care for others.
Donations to this fund will be used to further the Foundation's mission to promote professional development of nurses through recognition, grants, and scholarships. Please consider a donation to help raise funds for this worthy cause.
The Nevada Nurses Foundation is a non-profit 501(c)(3) Foundation, EIN 47-1388572. Your donation may be tax deductible; please consult your financial advisor.
If you prefer to pay by check, please make your check payable to "Nevada Nurses Foundation" with the notation "Alfonso Scholarship Fund" on the memo line, and send it to:
Nevada Nurses Foundation
P.O. Box 34047
Reno, Nevada 89533