Future of Nursing in Nevada Awards Dinner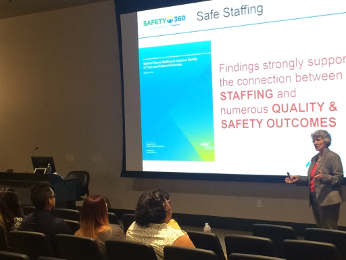 2018 Shining Stars of Nursing
Save the date!
NNF is partnering with over a dozen nursing organizations, institutions, and community leaders to honor and celebrate nurses in Nevada on October 6, 2018!
Nevada's
Shining Stars of Nursing
, formerly administered by the Foundation as the Future of Nursing Awards Dinner, will be held in the Celebrity Showroom at The Nugget in Sparks, Nevada. Nurses on Boards, Student Nurse Leaders, People's Choice CNO/DON, Distinguished Nurse Leader with Lifetime achievement nominees and award recipients, and NNF scholarship and grant recipients and sponsors will all be honored. Other recognitions will include Nevada nurses who completed advanced degrees and specialty certifications in 2017 and 50 nurses under 50 who have demonstrated leadership in their professional capacities.
More information about this year's event and award nominations is
available here
. If you are interested in helping with planning or want to volunteer or make a contribution, please contact Sandy at 775-560-1118 or e-mail
ShiningStars@NVNursesFoundation.org
.