Please join Nevada nurses, professional nursing organizations, and other supporting organizations at the second annual Future of Nursing in Nevada Awards Dinner as we celebrate and honor the accomplishments of our nursing colleagues, as well as recognize our scholarship recipients and private and corporate sponsors. Join us for a gala night of food, networking, and celebration.
SATURDAY, MAY 20, 2017
5 PM – 9 PM
GREEN VALLEY RANCH RESORT SPA & CASINO
2300 PASEO VERDE PARKWAY
HENDERSON, NEVADA 89502
702-617-7777
HIGHLIGHTS
Guest Speaker Presentation – Dr. Patricia Farmer from the Robert Wood Johnson Foundation for the Campaign for Action. She is a nationally known nurse and nurse educator who serves in Washington, DC, as an expert consultant to both the Center to Champion Nursing in America and the Academic Progression in Nursing Program. She is a research professor at the George Washington University and has presented extensively for state, national, and international audiences.
Student Luncheon – Dr. Farmer will also be the guest speaker at a student luncheon at the CSN Charleston Campus between 10 am and 2 pm on May 20. Food and beverages will be provided.

Click here

for more information and free registration.
"50 Under 50" Awards – Join us in recognizing fifty nurses under the age of fifty who have demonstrated excellence in practice and leadership.

Nominations are accepted

through March 19, 2017.
Professional Progression Awards – All nurses who have completed advanced degrees and specialty certifications in 2016 will be honored.

Let us know of your colleagues' successes

.
Nurses on Boards – All nurses who served on governing or advisory boards representing the nursing occupation or healthcare issues and concerns during 2016 will be honored. If you know of a colleague who should be recognized for his/her representation of or leadership in nursing, please

submit his or her name for consideration

. Submissions are accepted through May 12, 2017.
Recognition of Nevada Nurses Foundation Scholarship Donors – We will honor individual and corporate donors who have set aside funds from their charitable giving to create a personal/professional legacy by donating $1,000 or more to a scholarship in their individual/corporate names or after someone they wish to honor. With this naming opportunity comes the privilege of deciding the named scholarship criteria. The donors will be recognized at all NNA, NNF, NANE, and NAC sponsored events and their Web sites for one year.
Distinguished Nurse Leader with Lifetime Achievement Award – the recipient of the 2017 Distinguished Nurse Award, based on lifetime achievement and service, will be honored. Nominations for this award have closed.
Student Nurse Leader Award – the recipient of the Student Nurse Leader Award will be honored. If you would like to nominate someone for this competitive award, please

complete a nomination form

. Submissions are open through May 1, 2017.
Nurses' Choice Chief Nursing Officer (CNO) of the Year Award – the recipient of the 2017 top-rated CNO in Nevada will be honored. Nominations are open through May 1, 2017.

Complete the nomination form

for your favorite CNO.
Find great items at the silent auction! – Silent auction item donations gratefully accepted.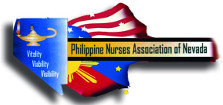 Presented by the Nevada Nurses Foundation, the Nevada Nurses Association (NNA), the Nevada Action Coalition (NAC), the Nevada Association for Nursing Excellence (NANE), the Nevada State Board of Nursing (NSBN), the Southern Nevada Black Nurses Association, the Philippine Nurses Association, the Nevada Student Nurses Association, Sigma Theta Tau International Honor Society of Nursing, the Nevada Hospital Association (NHA), the Nevada Association of Nurse Practitioners (NAPNA), and the Nevada Organization of Nursing Leaders (NONL). All proceeds will benefit the Nevada Nurses Foundation, a 501(c)3 non-profit organization.
Be Part of The Event!
Attend the Dinner – Join us for the food & celebration on May 20. Tickets will not be sold at the door. Tickets are available for purchase by the seat or by the table (10 seats).

Register online for your tickets

by midnight, May 17, 2017.
Become an Event Sponsor –

Purchase a table

(10 seats),

donate one or more tickets

to allow nurses to attend,

become an event sponsor

, or

purchase an ad in the souvenir program

.
Sponsor a Named Scholarship – Create a personal or professional legacy by donating a $1,000 scholarship in your name or someone you wish to honor. See

separate page to learn more

.
Donate A Silent Auction Item –

Contact us

to arrange for donation of a special item to the event's silent auction.
Can't Attend the Dinner? – Please consider becoming a

Foundation Sponsor

or

making a donation

to support the Foundation's mission.
Questions?
Call: 775-560-1118
E-Mail: FONN@NVNursesFoundation.org