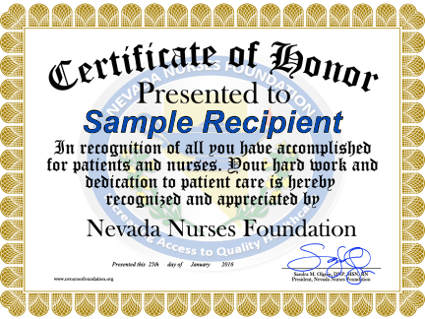 Nurses are health care heroes! Honor a remarkable NURSE today! The Honor a Nurse campaign helps you to do something special for the nurse who provided quality compassionate care and made a difference in someone's life. For only $20, your remarkable nurse will be recognized and highlighted in the next Nevada RNFormation newsletter and permanently right here in the Nevada Nurses Foundation Web site. They will also receive an Honor a Nurse certificate from the Nevada Nurses Foundation.
ALL nurses deserve to know that what they do is worthwhile, valuable, and remarkable! Let us help you recognize them in a BIG way! You are encouraged to recognize any remarkable nurse, from anywhere, because they deserve it!
NNF introduced the Honor a Nurse program in December, 2014, to let nurses know that they are appreciated and valued. All money collected from this campaign supports the mission of NNF.
Any nurse anywhere is eligible to be honored. You just need to visit the Honor a Nurse page and complete the information required. NNF will do the rest. If you would like to remain anonymous, please include your preference in the instructions.
If you have any questions, please call 775-560-1118.
Honor a Nurse 2015 Recipients
| | | |
| --- | --- | --- |
| Diane Elmore | Dr. Judith Carrion | Dr. Jessica Grimm |
| Ms. Mary Biddle, MSN | Ms. Sandy Olguin, MSN | Dr. Mary Bemker |
Honor a Nurse 2014 Recipients
| | | | |
| --- | --- | --- | --- |
| Kevin Lemus | Alex Guitron | Beth Melton | Tandy Wilson |
| Linda Gabel | Amy Pang | Jeffrey Scott Lindlee | Cheryl Clark |
| Joseph Barnes | Jenn Allen | Doreen Begley | Bobbeye Bowes |
| Lisa Dinwiddie | Martha Drohobyczer | Susan Drossulis | Lt. Colonel Terri Fisher |
| Ellie Hauck | Poppy Helgren | Linda Jacks | Lynn Johnson |
| Pam Johnson | Brenda Leake | First Lt. Samantha Lindsay | Bernadette Longo |
| Marilee Katz | Kay LaMaie | Patti Manavbasi | Joyce Malaskovitz |
| Deloris Middlebrooks | Melinda Miller | Betty Razor | Patsy Ruchala |
| Kathy Ryan | Linda Saunders | Jessi Schnitzius | Debra Scott |
| Shelly Burdette Taylor | Pam Warren | Cathy Dinauer | |