Professional Progression Awards
Join us in honoring all nurses who have completed advanced degrees and
specialty certifications in the past year!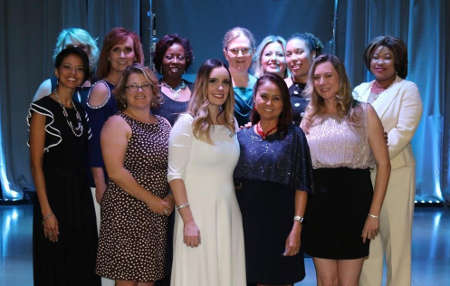 Purpose:
To recognize and honor nurses who continue to advance their education and training. Let us support our valued nurses for their commitment towards lifelong learning to gain and maintain the competencies needed to provide care for diverse populations for all age groups.
Celebration:
Nurses nominated for this award will be recognized during the 2023 Shining Stars of Nursing in Nevada Awards Dinner in North Las Vegas, NV, on Saturday, October 14, 2023, at the Aliante Casino, Hotel, & Spa.
Please complete the nomination form to nominate a nurse for a Professional Progression Award by midnight, September 25, 2023.
2016 Award Winners
Kristi Abbott
ANCC Nurse Executive Certification
Lorretta Jennings
MSN-FNP
Myacinth Pineda
RN-BSN
Susan Adamek
PhD-Nursing Education
Alfonso Jimenez-Haro
BSN
Danielle Planas
MSN-FNP
Aric Adaoag
MSN-FNP
Christy Johnson
BSN
Agripina Polushkin
RN-BSN
Erica Adimey RN
Julian Kate Tuttle
MS: Family Nurse Practitioner
Megan Pratt
Mariagina Agnir
RN-BSN
Stanley Kidiavayi
MSN-FNP
Patricia Riede
PhD in Education
Ronna Alcartado
Poeth Kilonzo
RN-BSN
Mandy Roberts
BSN
Gail Alexander
MS in Nursing Informatics
Hannah Klug
RN-BSN
Lourdes Rodriguez
MSN-EDU
Danyl Allen BSN
Hannah Kohler (Hammon)
BSN
Diana Rodriguez
RN-BSN
Erica Ambers
Courtney Kralich
BSN
Alicia Roney (Achurra)
Anne Andreozzi
BSN
Bonnie Kuckenbecker
ANCC Gerontological Nursing Certification
Vira Ross
BSN
Denise Angst
Lovely Kurian
RN-BSN
Angela Ruckdeschel
MSN-EDU
Jeremy Batten
MSN-FNP
Judith Kuria
RN-BSN
Monica Saenz
BSN
Kim Baxter
DNP
Katharine Kussell
RN-BSN
Hanna Sauer
Erica Bean
RN-BSN
Melissa Larsen
BSN
Brittney Saulque (Davis)
BSN
Betty Beck
RN-BSN
Rhiannon Laviolette
RN-BSN
Sandra Scanlan
RN-BSN
Susie Bell (Henrie)
Jacqueline Likert
RN-BSN
Maria Senda
RN-BSN
Michelle Belsher
BSN
Tiffany Liles (Double)
MSN-FNP
Marianne Seymour
BSN
Alyson Blight
MSN-FNP
Johanna Lim
MSN-FNP
Sarah Shaw
MSN-FNP
Cheryll Bondoc
RN-BSN
Crystal Lippert
RN-BSN
Lily Sherrillo
BSN
Emily Brown
MSN-FNP
Rosemarie Lizardo
RN-BSN
Leighanne Shirey
Andrea Burdette
BSN
Felicia Lowenstein-Moffett
DNP
Angela Silvestri-Elmore
PhD
Candace Camelon
DNP
Edelaine Lucas
RN-BSN
Julie Simmers
DNP
Jordan Carley
RN-BSN
Daisy Lugtu-Verry
BSN
Laura Smith
MSN-FNP
Jenifer Carvell
MSN-FNP
Erin Madsen
RN-BSN
Heidi Snoblen
RN-BSN
Daizy Chan
RN-BSN
Lindsay Martin
BSN
Chanda Sollinger
BSN
Abegail Concon
MSN-FNP
Laura Martin
DNP
Shannon Southwick
MSN-FNP
Lorna Cosenza
RN-BSN
Tilda Martin (Rogney)
Nicole Souza
BSN
Dolly Covert
ANCC Gerontological Nursing Certification
Laurie McColley
RN-BSN
Veronica Stevens
BSN
Patti Crepps
MSN
Amy McCombs
MS in Nursing
Candace Stevenson
RN-BSN
Jennifer Creque
RN-BSN
Dallan McKee
MSN-FNP
Jennifer Story-Salacup
MSN-FNP
Kristin Davidson
MSN-FNP
Natalie McKee (Palmer)
MSN-FNP
Eun Sung
MSN-FNP
Marcia Davis
RN-BSN
Theresa McLaughlin
RN-BSN
Miao Sun
MSN-EDU
Kenia Delatorre
RN-BSN
Kenneth Meier
RN-BSN
Lisa Sutherland
BSN
Megan Dempsey
RN-BSN
Robin Meiltoft
Jeanine Swygman
DNP
Darnell Dobbins
Certificate of Achievement in Practical Nursing
Charlene Melton
MSN-EDU
Chelsea Takara
MSN
Leah Doke
BSN
Milen Minchev
RN-BSN
Rizza Tawatao
RN-BSN
Daphne Engebritson
RN-BSN
Lisa Moss
RN-BSN
Carolyn Testerman
BSN
Lindsey Enriquez
MSN-FNP
Alicia Mujica
RN-BSN
Rosemary Thuet
ANCC Nurse Executive Certification
ANCC Nurse Professional Development Specialist
Susan Ervin
PhD
Annette Mullis
MSN-EDU
Jennifer Tingle
RN-BSN
Paola Espinoza
BSN
Daniel Navarro
DNP
Tara Tipton
MSN-FNP
Marcia Evans
Certified Case Manager
Pam Nelson
ANCC Medical/Surgical Nursing Certification
Ancy Tom
MSN-FNP
Katherina Faustino
RN-BS
Amber Nikoley
BSN
Hazel Turgeon
BSN
Deanna Ferrari-Leong
DNP
Patricia Nill
MSN-EDU
Maileen Ulep-Reed
MSN-FNP
Matthew Ferrari
RN-BS
Edward Nyame
RN-BSN
Shanna Van Aken
MSN-FNP
Jerifaye Flores
MSN-FNP
Sandy Olguin
DNP
Ashley Vazeen
Krystle Flores
RN-BSN
Gina Olson
RN-BSN
Angelica Vo
RN-BSN
James Freed
RN-BSN
Charity O'Neal
BSN
Hanh Vu
BSN
Maria Freed
RN-BSN
Ginette Oulette
DNP
Karen Wagner (Morgan)
Ryan Glazier
MS in Nursing
Brandie Oros (Krenka)
Autumn Wake
RN-BSN
Nancy Gonzalez
RN-BSN
Lisa Pacheco
MSN
Jennifer Walker
MS in Nursing
Abigail Green
RN-BSN
Azita Pascoe
RN-BSN
Carol Walsh
RN-BSN
Tessa Haas
RN-BSN
Kara Paszek
Helga White
MSN
Stephen Hayden
DNP
Ricky Patrick
MSN-FNP
Heather Wickware
RN-BSN
Christy Hess
MSN-FNP
Leslie Peek
Amy Wisniewski
RN-BSN
Rosalind (Hether) Hardy
BSN
Christy Parker
BSN
Marta Womble
RN-BSN
Erin R. Hicks
Dolores Perez
DNP
Pia Wood
RN-BSN
Carrie Hintz
DNP
Krystal Peters
MSN-FNP
Mailo Yang
MSN-FNP
Jill Holsclaw
RN-BSN
Preston Peterson
RN-BSN
Tiffany Yohey
Leslie Hunter-Johnson
AGPCNP
Anthony Pieracini
MSN-FNP
Marizel Yukee
MSN in Leadership and Management
Thienkim Huynh
MSN-FNP
Kristi Pikyavit
MSN-FNP
Dawn Zaratiegui
MSN-FNP
Todd Isbell
ANCC Nurse Executive Certification