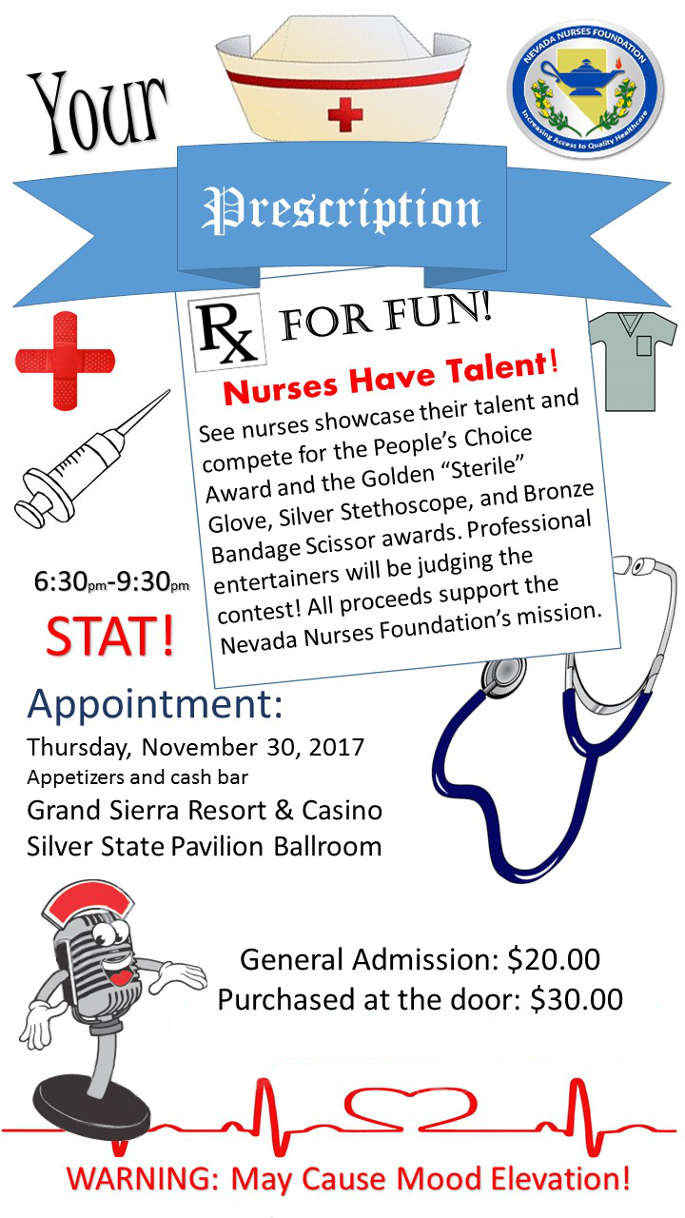 In conjunction with the NNA/NONL joint conference, the Nevada Nurses Foundation is sponsoring the Nurses Have Talent contest, to be held 6:30 pm - 9:30 pm on Thursday, November 30, 2017, at the Grand Sierra Resort & Casino in Reno, Nevada.
Interested in Competing?
Are you a nurse and dance, sing, juggle, act, or have a monolog or comedy routine? We are accepting video or audio clips to pre-qualify contestants. Contact Talent@NVNursesFoundation.org for details about the qualification process.
Want to See The Fun and Participate in The People's Choice Award?
Tickets are available for $20 each if purchased in advance, or $30 at the door. Register online for your tickets before Wednesday, November 29.
Want to Become an Event Sponsor?
Sponsorship benefits include a VIP table for 8 guests and your company or organization's logo on the full-size event banner. Options for sponsoring one of the main prizes are also available. Register online for your sponsorship by Friday, November 24.
Interested in Attending the NONL/NNA Conference?
The Nurses Have Talent show is just part of a two-day nursing convention co-sponsored by the Nevada Nurses Association (NNA) and the Nevada Organization of Nurse Leaders (NONL) taking place on November 30 and December 1, 2017. Registered nurses and Nevada nursing students are encouraged to attend. For more information and to register for the convention, refer to the NONL/NNA announcement.
Questions?
Call: 775-560-1118
E-Mail: Talent@NVNursesFoundation.org