NNF 2023 Fundraising, Social, & Recognition Events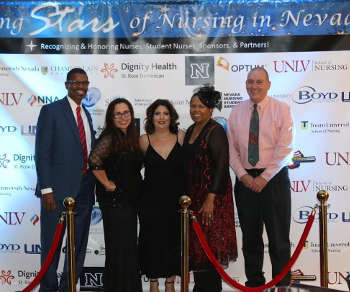 THE SHINING STARS OF NURSING IN NEVADA
The Foundation's 5th annual Shining Stars of Nursing in Nevada is scheduled for Saturday, October 3rd, 2020, at the Nugget Casino Resort in Sparks, Nevada. Plan to join us for a fun night of dining, dancing, and recognizing Nevada's shining stars, including NNF scholarship recipients and outstanding nurses! Activities will include a silent auction and a drawing for raffle prizes.
An event for student nurses is planned for the morning of October 3, including guest speakers, opportunities to meet with vendors, and a chance to win tickets for the Shining Stars event that evening.
In advance of the dinner event, we will be accepting nominations for
People's Choice Chief Nursing Officer/Director of Nursing
50 Under 50
Distinguished Nurse Leader with Lifetime Achievement Award
We will also be accepting names for
Rising Stars (outstanding student nurses)
Professional Progression awards
Nurses on Boards
Shining Stars (outstanding nurses recognized by organizations)
Forever Stars (nurses who have passed in 2019/2020)
For more information, please refer to the event flier. Links for registration, sponsorships, purchasing ads in the event program, and nominations for various recognitions are available there as well.